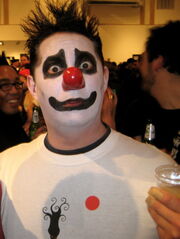 Angus Oblong
is an American illustrator, author, and creator of
The Oblongs
.
Background
Edit
Born in Sacramento, California, he attended the University of California for a few years, but quit before finishing. His reason was that he really just wanted to get out and start doing things that nobody else had done before. He had moved to San Francisco and begun selling comics out of his home.
He moved to Los Angeles, California at the request of his agent when a "bidding war" was underway over whether FOX,  Warner Brothers, or Disney would produce what became The Oblongs. When his work began garnering attention from the press, he started wearing "thick clown makeup and a bulbous, red plastic nose" in public places, a practice he has continued.
Working on the Show
Edit
Angus was constantly butting heads with the writers at the beginning, because he had a different vision than everyone else. In the end, he only got at least 10% of his vision into it. He ended up leaving the writing process to leave room for them to work, and oversaw the animation process, which he enjoyed much more.
When the show ended, he was sad that it was over, but he was also relieved that he did not have to struggle in a constant uphill battle to get in his ideas anymore. In the end, he truly did not feel that it was "his show". That being said, he still thought that it wasn't half-bad.
His real name is David Walker and birth name is David Adam Walker.
He claims to have been born in 1863, and was once named Engelbert Humperdink. He then changed his name to his current pen name at the age of 14, after having been struck by lightning thrice within 2 years. "The name was bad luck," he says. "Zeus apparently wanted me dead. But so do my three ex-wives."
Community content is available under
CC-BY-SA
unless otherwise noted.